Hobey Baker Award
---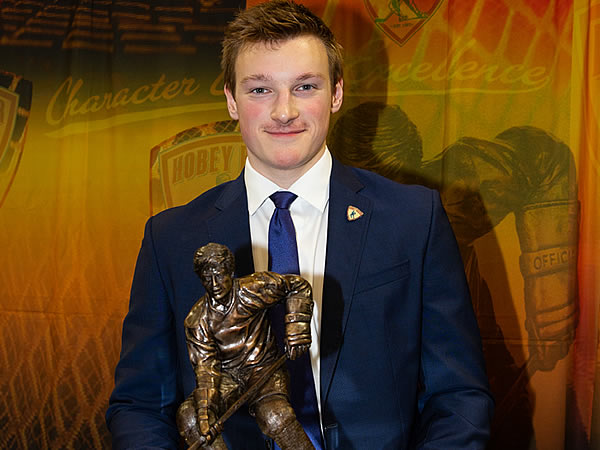 For nearly 40 years, the Hobey Baker Memorial Award has celebrated the best in college hockey, being awarded to a player who combines excellence on the ice with strength of character.
In 2019, Massachusetts defenseman Cale Makar captured the award, edging fellow Hobey Hat Trick finalists Adam Fox of Harvard and Jimmy Schuldt of St. Cloud State. The top scoring defenseman in the nation, Makar led Massachusetts to its first Frozen Four and an appearance in the NCAA championship game
Past winners include Jack Eichel, Johnny Gaudreau, Ryan Miller, Chris Drury, Brendan Morrison and 2017 Hockey Hall of Famer Paul Kariya.
Three finalists are selected from an initial list of ten candidates by the 23-member Selection Committee and an additional round of online fan balloting to determine the Hobey Baker winner. Criteria for the award includes: displaying outstanding skills in all phases of the game, strength of character on and off the ice, sportsmanship and scholastic achievements.
Hobey Baker was the legendary Princeton hockey player known as America's greatest amateur athlete more than 100 years ago. He redefined how the game was played with his coast-to-coast dashes in an era when hockey was contested with seven players and no forward passes. Baker died testing a repaired aircraft at the end of World War I after he had completed his military service.
PAST WINNERS:
2019 - Cale Makar, Massachusetts
2018 - Adam Gaudette, Northeastern
2017 - Will Butcher, Denver
2016 - Jimmy Vesey, Harvard
2015 - Jack Eichel, Boston University
2014 - Johnny Gaudreau, Boston College
2013 - Drew LeBlanc, St. Cloud State
2012 - Jack Connolly, Minnesota Duluth
2011 - Andy Miele, Miami
2010 - Blake Geoffrion, Wisconsin
2009 - Matt Gilroy, Boston University
2008 - Kevin Porter, Michigan
2007 - Ryan Duncan, North Dakota
2006 - Matt Carle, Denver
2005 - Marty Sertich, Colorado College
2004 - Junior Lessard, Minnesota Duluth
2003 - Peter Sejna, Colorado College
2002 - Jordan Leopold, Minnesota
2001 - Ryan Miller, Michigan State
2000 - Mike Mottau, Boston College
1999 - Jason Krog, New Hampshire
1998 - Chris Drury, Boston University
1997 - Brendan Morrison, Michigan
1996 - Brian Bonin, Minnesota
1995 - Brian Holzinger, Bowling Green
1994 - Chris Marinucci, Minnesota Duluth
1993 - Paul Kariya, Maine
1992 - Scott Pellerin, Maine
1991 - David Emma, Boston College
1990 - Kip Miller, Michigan State
1989 - Lane MacDonald, Harvard
1988 - Robb Stauber, Minnesota
1987 - Tony Hrkac, North Dakota
1986 - Scott Fusco, Harvard
1985 - Bill Watson, Minnesota Duluth
1984 - Tom Kurvers, Minnesota Duluth
1983 - Mark Fusco, Harvard
1982 - George McPhee, Bowling Green
1981 - Neal Broten, Minnesota